By: David Townsend
0 comment
Last week I attended the GREAT Energy summit in Prague, which required me to fly from Aberdeen to Prague via Schiphol. The journey over was far from perfect, but my travel disruptions triggered an abstract insight into one of the many feedback mechanisms of anthropogenic climate change.
I was first delayed in Aberdeen airport for two hours, as I watched six fully-kitted emergency response teams inspect "an unknown liquid of unknown origin on the tarmac in proximity to the aircraft". Turns out it was dry ice which "had leaked harmlessly from the aircrafts cargo" and the Dutch pilot chuckled over the intercom about the extreme mitigation procedure the Aberdeen airport authorities decided to undertake in response.
Arriving in Schiphol two hours late, I had 20 minutes to make my connection to Prague, and as I was sprinting through the airport I glanced at a screen with an ominous number of red blinking figures; flight was cancelled due to the remnants of hurricane Gonzalo. I joined the end of a motionless queue of jetlagged travellers and consumed free KitKats and water from the KLM staff while standing for two hours to be rebooked onto a new flight.
Finally, with a seat booked on a later flight, which was now going to be crammed full of three flights worth of passengers, I had only four more hours to wait in Schiphol so headed to the food court. Over my second Heineken my thoughts began drifting, and I realised an obvious yet weirdly encouraging negative feedback mechanism of climate change.
One of the largest sources of carbon dioxide emissions for any individual in the developed world is from air travel, and these emissions are even more exacerbating to climate change because they are released into the upper atmosphere where they are likely to remain – causing a greenhouse effect – far longer than emissions made at street level.
Climate change is already causing increased frequency and energy of storm systems, and this trend will only go up. These storms cause huge numbers of flights to be cancelled, causing airlines to collaborate and fill flights to the brim, and even causing some passengers to not travel at all, or find alternate forms of transportation. This in turn decreases global emissions from expected levels. It's not much, but at least it is a negative feedback mechanism that is only forecast to increase in significance with time. Anyway, I got to Prague safe and sound only 6 hours late and with a reduced carbon footprint to show for it, not too shabby.
The summit was well worth the lengthy day spent in transit, and if you are interested in an article summarising and critiquing the event, please see my other blog post titled "The GREAT Energy Summit".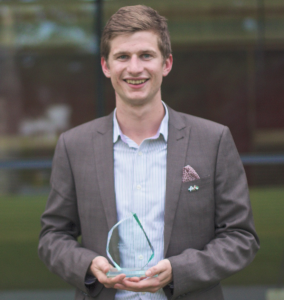 David Townsend
Founder and Managing Director

 Town Rock Energy